Alberta Fire Chiefs Association

Become a Member

Join Now
An AFCA membership offers the opportunity for you to become part of a network of members across Canada and the U.S. who share expertise on a wide variety of fire service-related issues. As a member, you receive a list of other Alberta Fire Chiefs and Trade members that is available only from AFCA—allowing you to maintain close contact with a team of individuals within the Alberta fire service.
AFCA membership gives you an opportunity to participate in decisions that directly affect the safety and well being of individuals in career, part-time and volunteer fire service positions, as well as the general public.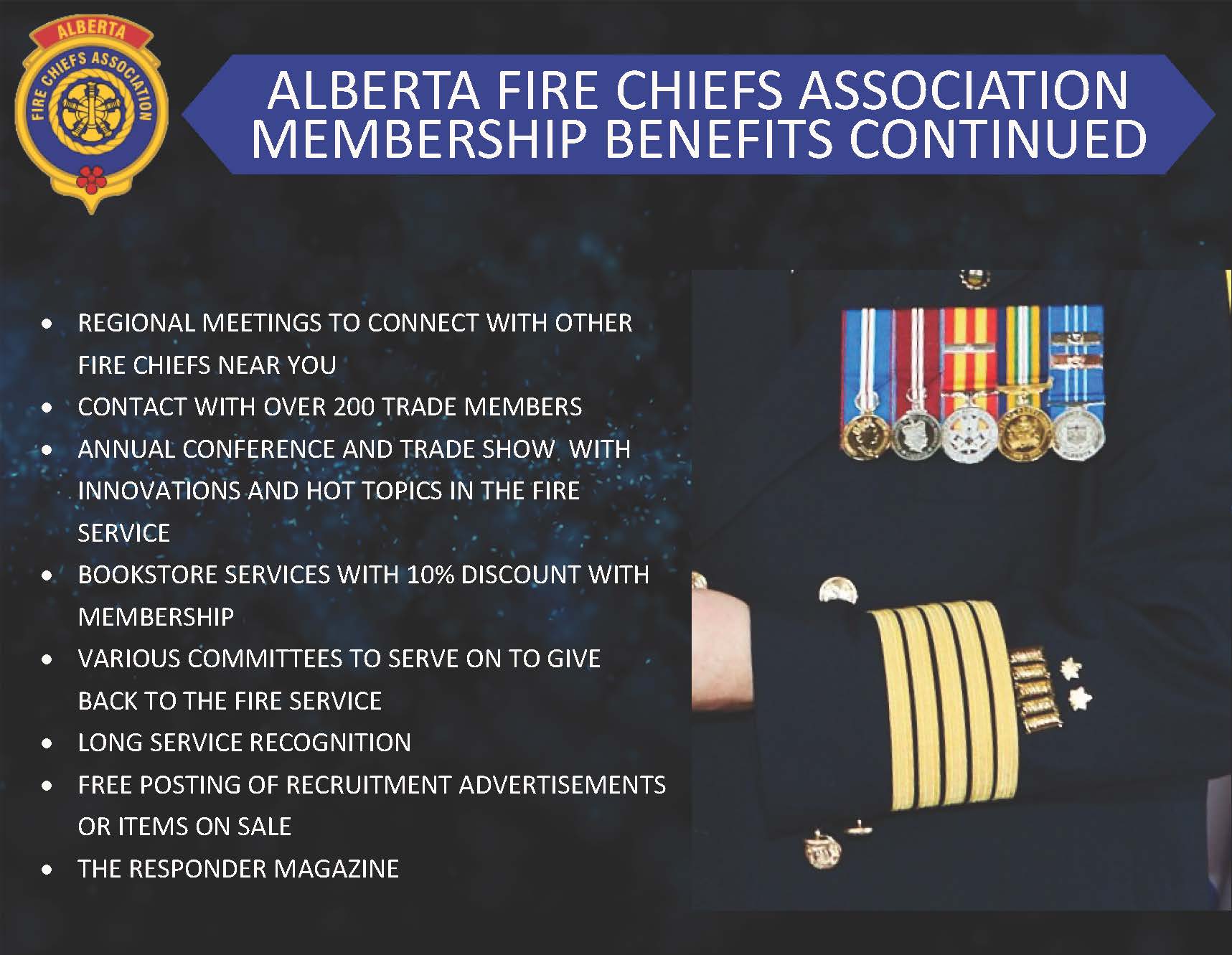 NOTE:
Membership Registration is NOW OPEN for 2023 Registrations! Contact Board and Member Services  at [email protected] if you have any questions.
Level
Price

Active Member

Individuals eligible for Active Membership include:

Chief Officers of any regularly organized public, private, governmental, or industrial fire service active in the Province of Alberta who are out of scope management employees;
Fire Marshals, Chief Training Officers, Chief Fire Prevention Officers, and Chief Fire Investigators or persons holding similar positions however named.

$180.00 now. Members in Canada will be charged 5% GST. starting January 1, 2023.
Select

Associate Membership

Individuals eligible include those involved in the fire service but who may not be eligible for Active Membership.

Persons eligible for Associate Membership include:

Chief Forestry Officers or other designated heads of Forestry Districts or zones and Safety Codes Officers-Fire of Municipal Affairs or any successor provincial departments;
Any Elected official of an Alberta Municipality, the CAO of any municipality in Alberta, Chief or Councillors of First Nations and Metis Settlements in Alberta;
Members of a Fire Fighters', Pre-Hospital care workers', or related bargaining unit and Members of the Alberta College of Paramedics;
Persons who are employees of a corporation, partnership, or sole proprietorship interested in the protection of life and property from fire, medical, and other emergency incidents;
Individual representatives of government bodies or agencies;
Any person or an employee of an organization interested in the promotion or development of the Fire Service or persons who provide consulting services on a professional basis to the Fire Service or to Association members.
Associate members enjoy the right to fully participate in the affairs of the AFCA, however are ineligable to:

Stand for election to the Board,
Hold office or,
Vote

$150.00 now. Members in Canada will be charged 5% GST. starting January 1, 2023.
Select

Trade Membership

Individuals eligible for a Trade Membership include:

Persons who are members of firms whether structured as corporations, partnerships or proprietorships which service, manufacture, or supply equipment and/or materials to the emergency industry and Association members.

Trade members enjoy the right to fully participate in the affairs of the AFCA, however are ineligable to:

Hold Office;
Stand for election or nominate persons for election to the Board other than the Trade Members Director or;
Hold office or,
Vote on items other than the election of the Trade Member Director unless serving on a committee.

$210.00 now. Members in Canada will be charged 5% GST. starting January 1, 2023.
Select

Affiliate Group Member

Groups whose aims, objectives, mission and special interest are similar or identical to the aims, objectives, mission or special interests of the Association.

$110.00 now. Members in Canada will be charged 5% GST. starting January 1, 2023.
Select