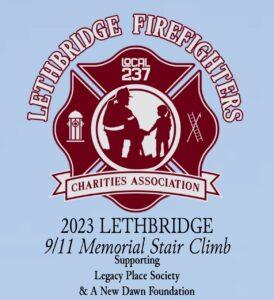 The Stair Climb is a physically demanding activity. The goal is to complete the ascent (and descent) of 110 stories. This distance is equivalent to the height of the World Trade Centre as it stood before the attacks of 9/11. It is believed that many rescuers would have made a similar climb that day but unfortunately many never returned home.
We make this climb to honour those we lost in the line of duty and to ensure that we never forget them.
Participants are encouraged to ask for sponsors in the form of pledges in order to raise money for the Legacy Place Society and A New Dawn Foundation. Click on the following link to the pledge form & print out as many as needed!
https://lethbridgefirefighters.com/wp-content/uploads/2023/08/Memorial-Stair-Climb-Pledge-Form-1.pdf
For those that do not wish to participate but would like to donate, you can do just that! Click on the following link: https://lethbridgefirefighters.com/donate/
Legacy Place Society is a provincial charity to support first responders, military and their families in the prevention and support for PTSD. https://legacyplacesociety.com/
A New Dawn Foundation provides support for families of Fire Fighters, Paramedics, Police Officers, Public Safety Communications Centre (PSCC), Nurses, Corrections Officers and Military Personnel of Lethbridge & Southern Alberta. A New Dawn Foundation is also partnered with Lethbridge Therapy Ltd. to offer these local heroes and their loved ones the quality counselling and therapy services they deserve. https://www.anewdawnfoundation.com/
How participants choose to approach this task is up to each individual with personal level of fitness taken into account. All participants that register before September 1, 2023 will receive a free t-shirt. If unable to select your size on this site, email [email protected].
A few suggestions:
1. Ensure you do a warm up routine prior to the climb.
2. Arrive well hydrated and rested. There will be water and light snacks supplied but if you have a different preference of refreshment or energy snack please bring your own.
3. Although each participant has to complete the climb on their own, we like to promote working as a team, to encourage and support one another.
4. Stay single file and to the right side of the stairwell to allow faster climbers or runners to safely pass.
5. Follow the designated route – 1 stairwell is up, 1 is down. Heats will be created as registrations are received & will be in 30 minute increments as follows:
Heat 1 – 10:00 am -10:30 am
Heat 2 – 10:30 am -11:00 am
Heat 3 – 11:00 am -11:30 am
Heat 4 – 11:30 am -12:00 pm
Heat designations will be emailed to each participant & will also be available at package pick up. Should participants have a heat preference, requests can be sent to: [email protected]. We will do our best to accommodate requests but appreciate your understanding of limited space & safety concerns.
6. Take breaks as required ensuring they are off the stairs or route, always remembering to HYDRATE!
7. Wear appropriate foot wear. Good running shoes are highly recommended.
8. It takes anywhere from 30 minutes to 2 hours to perform the climb. Although timing chips are utilized to count laps & provide participants with an accurate time – it is NOT a race!
9. ALL participants MUST sign waiver prior to starting the stair climb. Anyone who does not provide a signed waiver will NOT be permitted to participate. Waivers will be provided at package pick up.
10. Unfortunately we are unable to provide or allow participants to climb in turn out or tactical gear due to various safety hazards. There will be a limited number of SCBA's available on a first come, first served basis
11. Package pick up will be at Lethbridge Supplements and Vitamins (1406 3 Ave S, #2) on Friday, September 22nd from 12:00-6:00 pm. Participants unable to attend package pick up will have to check in & sign the waiver at Melcor Center prior to starting the Stair Climb.